Your hands-on go-to-market partner for aligning Sales and Marketing, honing in on what's working, and scaling to the next level.
Strategy Only*
1 Point Person
Bi-Monthly Meetings
Dedicated Virtual Space
Go-To-Market Plan review and feedback
User acquisition guidance
Tactical brainstorming
Systems setup walkthrough
Tools and tech recommendations
Benchmarks and KPIs
Growth Guide
*Hands-on with PowerUp Add-On. Hands-On Power Up is priced separately at hourly rate.
Strategy Only*
Up to 3 Point People
Ownership of Shared Roadmap
Weekly Meetings
Dedicated Virtual Space
Go-To-Market Plan review and feedback
User acquisition guidance
Tactical brainstorming
Systems setup walkthrough
Tools and tech recommendations
Benchmarks and KPIs
Growth Architect
*Hands-on with PowerUp Add-On. Hands-On Power Up is priced separately at hourly rate.
Strategy + Hands-On
Up to 3 Point People
Ownership of Shared Roadmap
Ownership of Priority Initiatives
Weekly Meetings
Dedicated Virtual Space
Go-To-Market Gap Assessment and Plan
User Acquisition
Systems, Tools, and Tech setup
Benchmarks and KPIs Ownership
Growth Team
Ready to grow

your B2B SaaS company?
In addition to other industries, I have 7+ years' experience marketing, positioning, and selling technology solutions into traditionally "lagging" and tech-averse industries, dealing with "old school" decision-makers and complex buying units. See a LinkedIn post series I shared about the characteristics of buyers in lagging industries, how to identify them based on data, and how to structure your marketing and selling touchpoints to win them over.
Enable the

Sales Team

Create consistency, and set things up right
Before increasing lead flow, you have to be set up to sell effectively. With 7+ years designing Sales processes for mid-market to enterprise Sales, including PLG, 2-step Sales assisted, and ABX – I ensure that your CRM is tracking activities, data, and engagement correctly. I optimize entry/exit criteria, ensure clear qualification, steps at each stage, scoring & grading, fill data gaps, and create Dashboards to track front-end Lead flow all the way through to Customer renewal and upgrades. I provide documentation and identify what's been working, where there's friction in the Customer Journey, and the messaging and tactics your team can use to scale Sales.
Create

 Marketing Touchpoints

Pull everything together to unify efforts across all inbound channels
Now that Sales is set up for success, I focus on designing full-funnel Marketing to support the go-to-market motion. I audit every user acquisition campaign to identify the effective channels where your audience obtains their information and makes purchase decisions. I then create, set up, and optimize every customer touchpoint, including social media profiles, websites and landing pages, emails, and profiles on search platforms like G2 and Software Advice/Gartner that resonate with your customers' needs.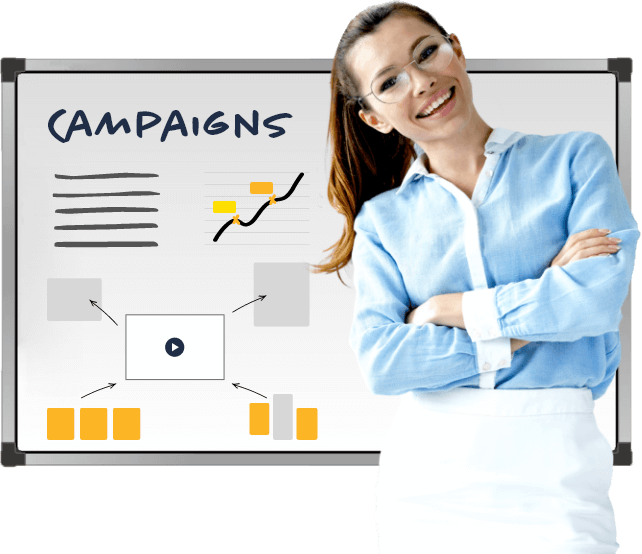 Run User Acquisition

Campaigns

Define the who, what, and how for user acquisition
Finally, I create and execute a custom growth plan based on your targets, audience, product, past successes, and go-to-market methods, supported by the custom assets and touchpoints from the previous work. Includes tactical multi-channel campaigns across email, social media, paid ads, newsletter marketing, content marketing, SEO, community marketing, product launches, and more. We start with benchmarks and add target KPIs, then execute against them for the next 90 days of growth.
RevvSpark started as an agency. This means that we have an established team and process for more comprehensive projects that fall beyond the scope of what a typical fractional engagement would cover. Our team is available to support growing companies when a need arises.
Website redesigns and optimizations*
Landing Page designs and CRO*
SEO
Blog Post writing
Sales Playbooks
Sales Process Design
CRM Reconfigurations**
List sourcing / data scraping
Organic Social Media Management
LinkedIn Ads
LinkedIn CEO ghostwriting
LinkedIn comment management
Frequently Asked Questions
What will we discuss on this call?
We'll touch on where your SaaS is as a company, your industry vertical, tech stack, GTM method, and the results of your user acquisition efforts so far - and determine if I am the right fit for helping you get to the next level.
What kind of companies do you work with?
Best-fit Clients:
B2B SaaS
Can include B2B services
Sells into SMB-enterprise targets
Sells into lagging or tech-averse audience
2-Step Sales Assisted GTM (go-to-market) motion (including ABX - Account-Based Marketing/Sales)
$1M+ ARR
Bootstrapped
Post-PMF
No FT Marketing leader in-house
Founder-led Sales + 1-3 Sales reps
Under 10 FT employees
Medium-fit Clients:
B2C SaaS
Apps
Companies adding a PLG motion
Seed-Series A venture funded
10-20 FT employees
In-house Marketing team in place
My goal is to get my clients on the path to $5M ARR by the end of our engagement.
What do your engagements look like?
Advisory Services are offered on a monthly basis with 4 meetings/month or 8 meetings per month. (1 Month = 30 calendar days)
Fractional Services are offered at a 4-month engagement, and range in monthly fee depending on how much strategy vs. execution work I will be performing. My fees for strategy only range between $5,000-$8,000/month. If there is execution work required (such as reconfiguring HubSpot Lead Statuses and Pipeline Stages to report and forecast correctly; redesigning the website) - I roll these fees into the monthly engagement to make it more affordable for Clients. Execution work bundled with strategic guidance can range from $12K - $15K/mo.
I have resources available for larger projects like website development and list-building, scoped as separate paid projects.
How do we know you're the right fit for us?
It will start with our initial conversation. We're looking for motivated companies open to testing, curious, and ready to grow. I do my best to deliver high-quality work that moves the needle for your company and customers, while juggling the competing priorities of the scaleup phase.
How soon will we see results?
A Fractional engagement is a commitment to building the foundational leadership, strategy, process, and systems to grow. Typically Clients see benefits and ROI from the investment within the first 30 days, often within the first 2 weeks as systems get sorted out, reporting becomes clearer, and the path to growth is built.
So, you made it to the bottom.
Ready to grow to the next level?