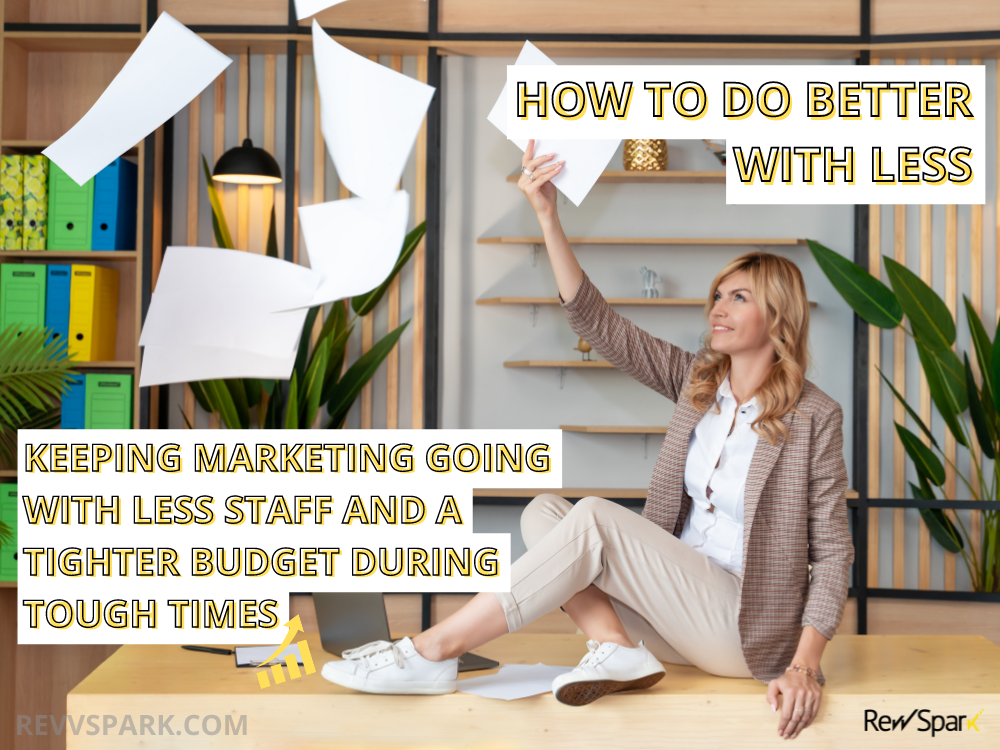 How to Do Better with Less: Keeping Marketing Going with Less Staff and a Tighter Budget During Tough Times
A global recession is imminent as the Federal Reserve continually increases interest rates, and other concerns like supply chain issues, war, and oil/energy shortages abound. Organizations have started to cut back on expenditure—budgets reduced, projects placed on hold, departments reorganized, and services restructured. Sadly, marketing departments (and budgets) are affected most when organizations don't have enough resources and leaders wonder how to keep marketing going with less budget and fewer staff.
Still, expectations for marketing departments remain high since a decrease in a marketing team's efficiency typically means a decrease in organizational revenue. For marketing leaders, this places extra weight on their shoulders. They still have to perform excellently, notwithstanding setbacks like downsizing or an economic downturn. 
Tensions may be high with many questions flying around—some of which we answer below.
What are the common questions a Marketing/Growth leader has after a reduction in staff and/or budget?
What is leadership's expectations for my performance and my department's performance after a reduction in resources?
It is best to keep lines of communication open after a reduction in resources. You can highlight your departmental goals to company leadership, ensuring both departmental and organizational goals align. You may also form workable solutions to ensure all expectations are met. This could mean extra time or more automated activities.
Is there an understanding that there will be a reduction in productivity and results in Marketing due to this?
Companies make a huge mistake not lowering goals when they lower their marketing budgets since a reduction in resources comes with a disruption in the marketing efforts of the team. Not to mention the increased workload and stress! It is simply impossible to achieve the same goals with less staff and a tighter budget.
We suggest being candid and forthright with leadership, helping them understand that a reduction in resources limits the level of results that the department can accomplish. Buttress this with examples and illustrations.
Are expectations realistic?
Determining if expectations are realistic during this period is essential to creating a positive, healthy work environment where the department can still thrive. 
To do this, consider factors like your company's previous and current budget, resources (time and people), and goals. With your experience as a Marketing and Growth leaderowth leader, you can then ascertain how reasonable the organization's expectations are and how practical the available resources are in meeting those expectations. 
To get better insights, consider speaking to another marketing expert (preferably one who has been in your shoes).
How can I make leadership's expectations realistic?
We recommend identifying KPIs you consider achievable and how long it will take to achieve them. These KPIs should be metrics-based such as total inbound lead targets and MQLs, number of qualified Opportunities, net new Customers, number of paid user upgrades, etc.
Then review the numbers with leadership, stating that when these KPIs are met the morale of the Marketing and Growth team will be boosted. With small wins, employees may be motivated to work harder. All of which wouldn't happen if they have insurmountable expectations hovering over them. 
How do I avoid personal burnout?
In a bid to salvage it all and make the best out of your organization's situation, you may go through extreme stress and exhaustion. Sadly, this usually has the opposite effect on the team and the organization since the period of crises is the worst time for a Marketing and Growth leader to suffer the consequences of burnout.
Here are some practical ways that leaders can avoid personal burnout during tough times:
Know the

signs of burnout

. This is perhaps the most important thing you can do to avoid burnout since, by the time you notice, your burnout level may be high already.

Take breaks

Don't neglect your physical health

Delegate tasks as much as you can

Talk to someone; a family member, friend, or therapist
What resources can I use to bridge the gap?
During this period, you can explore resources like:
Subscription platforms – Software tools that can automate, streamline, and simplify your marketing processes.
Temporary staffing – If the organization is understaffed, using temporary employees to fill critical positions for a predetermined period is a great way to keep the organization on track at a lower cost.
Fractional leadership – You may bring in marketing leadership experts who have faced similar issues—via a part-time or some other short-duration engagement—to guide the strategic operations of the department and augment your marketing efforts.
Agencies – Working with a marketing agency that properly understands your situation and is aligned with your goals is an excellent way to keep the momentum going. 
With an agency, you don't just benefit from an individual's skill; you also tap into the team's collective experience with previous clients. A marketing agency has seen what works and what doesn't in tough times and can help you avoid pitfalls in new marketing efforts and provide ongoing insights into marketing processes.
Unsure how to find the right Agency partner?
We've created a helpful guide for that.
What should Growth leaders do after a downsizing?
As someone responsible for leading your team and the organization to meet business goals, you are particularly affected by a downsizing. However, progress must be made.
So how can you get this done?
First, assess all Campaigns currently running. 
Marketing campaigns involve investing resources—human, money, and time. From brainstorming to creation to implementation, so much effort goes into it. Thus, when a marketing team is downsized, some of its processes (including campaigns) will be affected, which is why you must assess all marketing campaigns to determine how beneficial they are to your organization.
Second, identify Campaigns that produce on a 30-day lag, a 60-day lag, and a 90-day lag (short-term, medium-term, and long-term performers). Software tools such as Meltwater, Hotjar, and Ahrefs can make this process more efficient.
Third, pause or eliminate underperforming Campaigns. 
During this period, you want to maximize your resources. So, once you collect the data and determine the short-term, medium-term, and long-term performers, it is time to pause or let go of all underperforming campaigns. Don't be tempted to buy into the fallacy of sunk costs. Now isn't the time to hold on to the floundering campaigns in the hope that making "minor modifications" will do the trick.
Next, plan for "bridging the gap" with other resources. For example, increased personalized customer experience. 
Fourth, plan for improving conversions for Campaigns you will keep. Do this by addressing your customers' pain points, keeping your funnel in mind, and adapting your chosen campaigns for each customer journey.
Last, make your case to leadership with mathematical models and future forecasting based on resource reduction vs additions of resources elsewhere. 
Knowing how to approach leadership and what they will probably agree to helps you set your expectations at the right level and go in with the right ask. Communicate the emotional and monetary value of your chosen strategies and your concerns with the unchosen ones using data-driven insights.
How can a Marketing team be more effective with fewer internal resources or a lower budget?
When we work with Clients, we focus on making Marketing more effective by improving conversions (CRO, or Conversion Rate Optimization), upgrading messaging, addressing the Buyer's Journey, creating collateral and content for every stage, recommending smarter tools and automations to do the work of more people, harnessing long-tail intent-based keyword searches to create more effective content, and improving internal efficiencies. We recommend leaning on these levers to everyone who experiences a downsizing. 
How do clients benefit if they work with RevvSpark after budget cuts?
We use your budget wisely. Having worked with small and large organizations in similar situations, we have the experience and expertise needed to strategically improve your marketing efforts in this challenging time.

We don't take a trial-and-error approach and instead seek to be most effective in what we do

We identify top performers in Marketing Campaigns and improve them

We provide incremental improvements -> big wins for revenue

We function as an outside perspective, seeing your processes and challenges differently and developing practical solutions that address them.

We act as your outsourced partner

We provide subject matter expertise

We are a knowledgeable team determined to supplement what your marketing team can accomplish
And, most importantly…
We can help bridge the gap until the situation improves.
Dealing with a reduced Marketing budget and/or fewer internal staff?
We can help.
Grab a time here to chat about how we can help you be more effective with less.
Don't forget to share this post.
Early-stage startups have one thing in common: needing software on the cheap. We have compiled a list of 37 (mostly free) software solutions to help you grow your business.
read more
Creating Conversion Content is something that every business should be doing – but what is it? Conversion Content moves the reader to take action and is measured by the desired outcome. For leads, Conversion Content moved them to the next step in the Buyer's Journey. For internal teams, it is Sales Enablement content that converts sales reps into seasoned pros.
read more